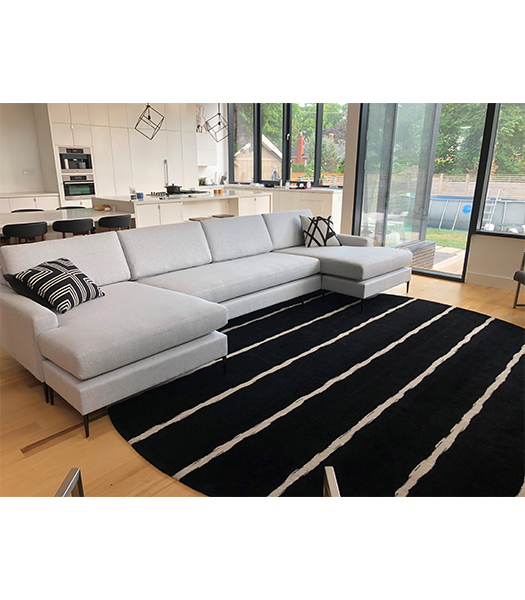 Have you ever noticed the word "custom" is used very loosely today? A "custom" men's suit, used to imply that your measurements will be taken, you pick your fabric, and a month or two later, it's ready for pick up and it fit's like a glove. Today, for the most part, a custom suit means they measure you, they pull one off the rack and they simply send it into the seamstress to adjust the lines and fit. To me this is not custom.
Buying a sofa is the same thing. Don't show me a sofa and call it custom because I can pick a fabric that you will simply drape over the frame that has been mass produced 1000 times over. This is not custom! They merely allowed you to pick a fabric or leather. Big deal.
At Manorhouse, if you want a custom sofa or sectional or chair, or loveseat for that matter, then custom you shall have. Come and visit us today with your space measurements. Let's say you have 142 inches on the long side, and 115 inches on the short side and you would love to have a sectional fill this space to the inch. No problem. We got you. You walk in the the front door, we show you around, and you find the style you like. But wait a minute! You love it, but the back height is too low! It doesn't give you that support where you can rest your head back and watch Netflix. No problem. How high would you like the backs to be? We got you. And wait, the seat depth is just too deep for your little legs. No problem. Let's shave 3 inches off the seat depth for you. We got this. But wait! Then you say "Honey, I don't like the type of stitch they used around the arms". Well, that's simple, take a look at these stitch types over here. Would you like this baseball stitch instead of the single stitch? No problem. We got you. What's that? The arms are too thick? Let's shave 2″ off of the arm thickness. We got you. Overall frame depth, seat cushion widths, loose backs, attached backs, button tufting, blind tufting, firm foam, soft foam, padding the outside arms and back, ottomans- storage or no. This is the definition of "custom" !
Call us today to set up your appointment to come see the many options for customizing our sofa frames. By the way, the word "custom" has always been synonymous with expensive. I assure you this isn't the case. Often times, we quote custom sofa's that price out less than one of our other suppliers who don't offer the definition of custom. See for yourself today.